Disc Golf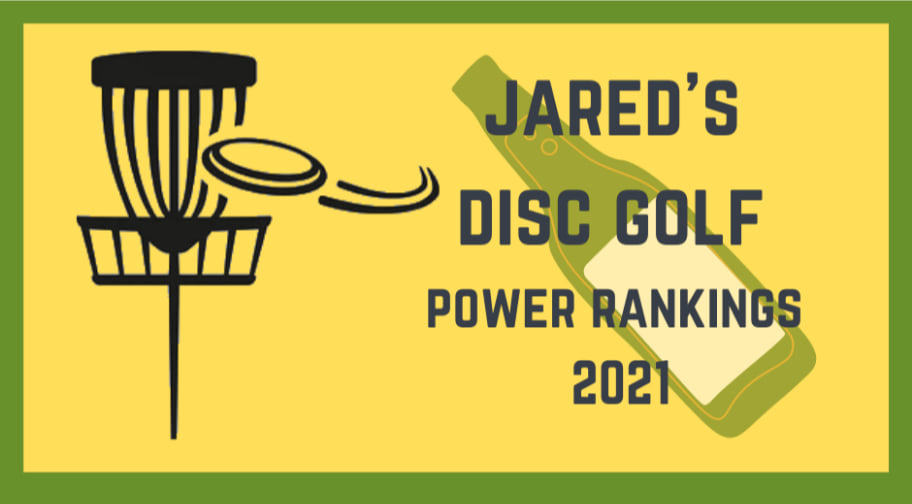 Jared's Disc Golf Power Rankings V. 1
So about a week ago, this dude Mckay Johns started popping up on my social media feeds talking about sports, and analytics, and sports analytics, and stuff like that. My mind started racing… and here we are. A bunch of days with minimal sleep and an angry girlfriend later… power rankings.
(Disc golf talk incoming… if you have arrived here via data science twitter and don't really care about disc golf, you can take a look at my sub-beginner level code at my github. The numbers come from publicly-available data at pdga.com. I used some BeautifulSoup to find the data, and then Python (a whole lotta pandas) and SQL to make the data meaningful. My usual warnings apply. I'm still learning. Be gentle)
To be honest, power rankings were not my first disc golf stat idea. My other ideas will appear weekly, probably, alongside the updated power rankings. I'm talking… Lucky Charm: Who does each player need to be also on the course to play well… Blood-sucker: who plays the best when more players DNF… Civil War: Which states are pulling in the most prize money… Jinx: Who does each player not want to see on the course… Relive the Election: Which players particularly prefer playing in blue states over red states and vice versa… y'know, that kinda thing.
But now, what you've been waiting for… the power rankings…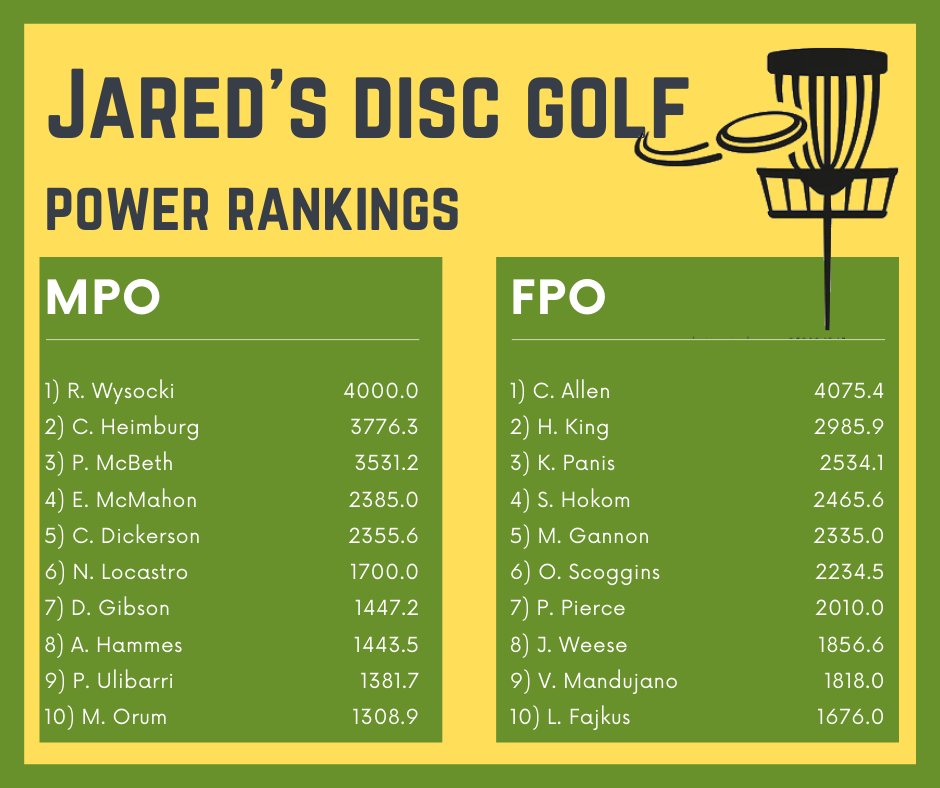 On the MPO side, wins at Texas States, Jonesboro, and Belton and a strong and emotional runner-up in Kansas is currently too much for Ricky to not be atop this list. Even against Mr. "Top-5 in every event ever forever now, I promise" Heimburg (Vegas, Waco, Texas, Jonesboro, Vintage, Belton, DDO but who's counting). Paul was a beast in Emporia, fear him. Closing out the list is the brilliant Matthew Orum (I had to look up his first name) who opted to take a win in Mobile, Alabama, instead of braving the Kansas winds (and field). Because these power rankings are that important.
In FPO, other than a super-embarrassing 7th in Waco (I'll get 7th place in something, someday, I hope), Cat has been top 4 in every event she's played (6 total, 4 National Tour events and 2 packed A-Tiers), including wins in Jonesboro and Belton. She's super consistent and super good. After a huge outing at DDO, I thinks Hailey is poised to make a run. At her best, wins are always in range. Consistency will the key if she wants the top spot here, though, and I KNOW SHE DOES. And finally, she won't be number 7 for long, Paige is waiting to pounce…
The points used for ranking are based on the placements of players in National Tour, A-tier and A/B-tier events from the beginning of this year. How strongly a particular tournament is considered in the rankings is based on its tier, its field-strength, and how long ago it took place (more recent tournaments are weighed more heavily). I will continue to tweak the math as needed or as my mood dictates.
Remember, these rankings are for entertainment purposes only. It is not advisable to base investment or medical decisions on this data. Please seek expert help as necessary.
If you are interested in what the data I used to create these rankings look like, here are a slice (top 15) of the final power rankings table for MPO and a slice for FPO. There are 112 columns of data. Download them and zoom in. Have fun.
Tune in weekly for updates to the rankings. And of course follow my disc golf twitter (@CambodianDisc) and/or my data science twitter (@riceanddata1)…