Sports Analytics
Which AFL Kicker-Marker Pairs Have Tallied the Most Forward-50 Marks through round 20?
In this post I am only answering the question in the title. If you are curious How I got to these answers, you can take a look at my notebook on my github (https://github.com/jaredcahners/Round-20-F50-Marking-Pairs).
Here is the answer in dataframe form. 'Count' is the total number of forward-50 marks a pairing has achieved. Some games were left out of the dataset though:
Round 4 – North Melbourne vs Adelaide
Round 4 – Port Adelaide vs Richmond
Round 7 – Sydney vs Geelong
Round 8 – Brisbane vs Fremantle
Round 8 – Western Bulldogs vs Carlton
Round 9 – Melbourne vs Carlton
Therefore I added another column ('Adjusted Count') which takes into account the missed games and estimates the pairing's actual count based on their other results.
'Points' refers to the average number of points scored by a pair's team during a possession in which they tallied an inside-50 mark. Some of these pairings are more efficient scorers than others…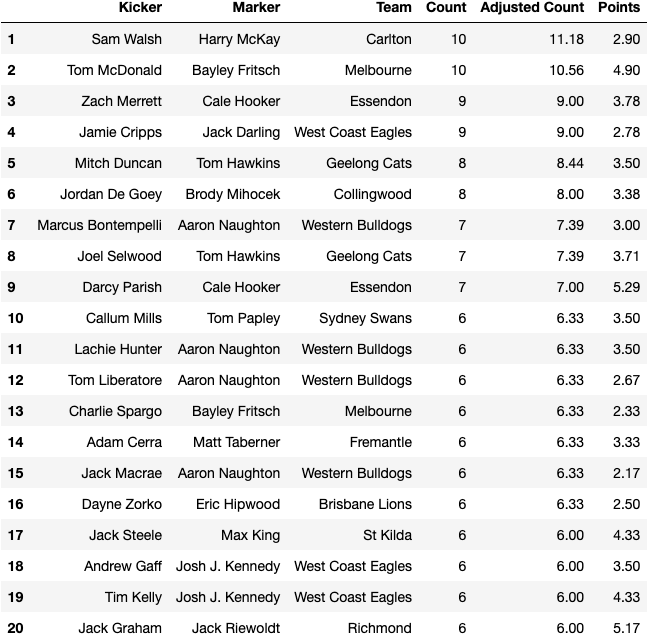 And we can see that even more when we sort the data by 'Points', including only those pairs who have five or more forward 50 marks to their names…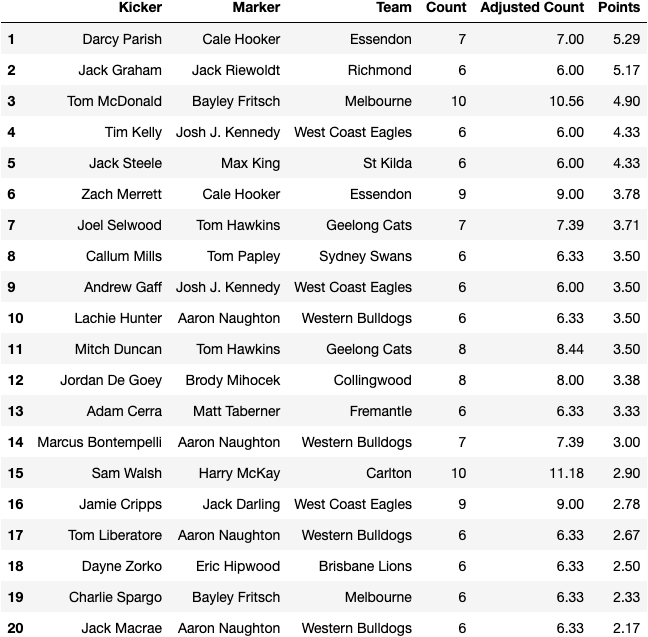 Thanks for taking a look! Follow me on twitter for more of this kinda stuff… https://twitter.com/DiscsandData.
(The data comes from a dataset Richard Little shared on his github. Thanks, Richard!)